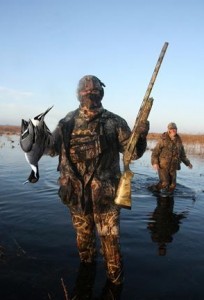 The area of Dare and Hyde Counties is arguably one of the best overall hunting destinations in the United States. When you combine the pocosin and bay thickets, the large flooded lowlands and the tremendous expanses of farmland, you have the perfect combination of safety and food for wildlife to flourish in.
The Simmons family has made a living guiding guests on hunting adventures in this area for three generations, and takes great pride in providing only the highest quality hunts available. Through Dare to Hyde's access to some of the finest privately managed hunting property, and experienced hunting guides, we can make your next hunting adventure a fun and enjoyable experience.
Whether you are after a trophy black bear, the magnificent tundra swan, that monster gobbler, or any number of other game species, we can design a trip that is right for you. It doesn't matter if you're a lifelong hunter, or someone entering the field for the first time, we've got you covered.
Out trophy black bear are recognized as some of the largest in North America. We offer guided guaranteed opportunity trophy black bear hunts. While you are here, join one of our duck guides for some of the best duck hunting the Atlantic Flyway has to offer.
Please note: All game hunted is completely wild, and therefore governed by the laws set forth by the NC Wildlife Resources Commission. Availability varies based on yearly hunting seasons. Please give us a call to discuss the best time to plan your hunting adventure!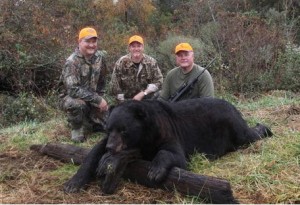 Black Bear – Home to the largest black bear in the world. Guaranteed Opportunity Trophy Black Bear Hunts!
Deer – Guaranteed harvest when going on a 3 day hunt.
Waterfowl – The wintering population sometimes exceeds 200,000 – North Carolina's finest guided duck hunting and more.
Turkeys – High populations.