Jamin and Pam Simmons: Proprietor & Owners
Jamin Simmons is a lifetime resident of Hyde County and a third generation outdoor guide. Pam and Jamin were married on February 23rd, 2002. Pam grew up in Walstonburg, NC and served as the Arby's representative with MBM food service distributors before marrying Jamin. She has since assisted him with the various businesses and charitable ventures they're associated with.
Pam and Jamin bought the Salvation, a 50 foot Omie Tillet, in 2011 with the intention of chartering it for offshore fishing and giving the profits to Cross Trail Outfitters (an organization that mentor young men without a father figure) or another Christian based charity.
In October 2011, Pam and Jamin formed Dare To Hyde Adventures as an avenue for using local people to facilitate the abundant natural resources Dare and Hyde County offer. A priority of this move was to help provide another source of income for locals. A portion of the profits from this company are used for charities that lift up our Savior, Jesus Christ.
Robb "Robbo" McCreary: Pro Guide & HVAC Expert
Robbo is a special talent. In the winter months Robbo serves as a premier waterfowl and bear hunting guide, while the remainder of the year he owns one of, if not the, premier HVAC business on the Atlantic seaboard. He is known for his distinct passion for the outdoors, and an undying commitment to each guests he guides. If you see him around camp, make sure to say hello, he truly enjoys engaging with other outdoorsmen on topics of higher meaning such as politics, religion, and our purpose on earth.
With over 50 bear kills to his record, and an uncanny knack for always being in the best location for waterfowl hunts, Robbo truly is a legend among outdoorsmen.
Josh McKeel: Pro Guide
Josh grew up in nearby Snow Hill, North Carolina, where he cultivated an interest in the outdoors from an early age. After playing baseball and graduating from Pitt Community College, Josh moved to Hyde County to come on board at Dare to Hyde as well as Mattamuskeet Management, our partner company. Josh makes it his mission to provide enjoyable experiences for his guests on every trip. As a year-round contributor, Josh works to cultivate and maintain our farms during the off season.
Colin Oxnard: Pro Guide
Colin is a native of Savanah, GA and has been working in the outdoor industry for over 10 years. A graduate of the illustrious Elon University, Colin serves as a Pro Guide specializing in bear and waterfowl hunting operations. With extensive experience in the bush, he is one of our go-to bear handlers. During the offseason Colin works as as part of the expert two-man crew running Qualifier Charters; one of the top Sportfishing vessels in the world.
Holton Clifton: Pro Guide
Holton was raised in Greenville, North Carolina and has been hunting throughout Hyde County his entire life. Holton also has extensive experience fishing the waters up and down the North Carolina coast. He has been guiding hunts with Dare to Hyde since our inception and has been a part of over 400 successful bear hunts. During the summer months, he helps as a mate fishing the tournament circuit on the Salvation. Holton puts everything forth in his efforts to guide his groups on memorable hunts and to share with them all that Eastern North Carolina has to offer.
Chase Luker: Hospitality and Client Manager
Though born in Alabama, Chase has spent his most of his adult life in eastern North Carolina. Chase has spent his career managing outdoor endeavors, including youth programming and hunter education. He's an accomplished outdoor writer and decoy carver and even hunts over his own, hand-carved decoys. Aside from hunting mainland Hyde County, Chase also travels annually to the Dakotas for waterfowl and pheasant. Aside from managing the guest experience, Chase also serves as the Northern Coastal Zone Hunter Education Coordinator for the NCWRC. In addition to his busy professional career, Chase also is committed to the Core Sound Decoy Carvers Guild Festival Committee, Hyde County Waterfowl Association Festival Chair, NCDU State Committee, and Hyde County 4-H Advisory Council.
Other projects
In the Bush Outfitters and Adventures

In The Bush Outfitters and Adventures presents a well-kept secret, offering world class upland bird shooting including White Crowned Pidgeon and four species of doves. Additionally, there are quail numbers rivaling anywhere in the southern USA and large concentrations of migrating waterfowl.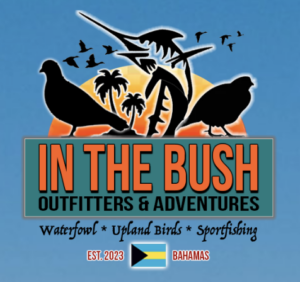 These diverse expanses provide prime habitat for migratory upland birds and waterfowl as well as feral hogs. Andros is already known for world class bone fishing, grouper and many species of snapper. We also offer unparalleled offshore fishing for wahoo, billfish and tuna; all within a few miles of the beach. In addition there are miles of beautiful beaches with some of the best snorkeling in the Bahamas (average year round temperature in the 80s.)
Andros is the largest island in The Bahamas. It is 104 miles long and 40 miles wide and lies in the Atlantic Ocean with the shallow Great Bahama Bank to the west and to the east, the thirds largest barrier reef, and the Tongue of the Ocean, one of the deepest oceanic zones in the world. The entire west side of the island is unpopulated and in a natural form with pine/scrub forest and intermittent meadows at upland elevations, bordered by mangrove lined tidal estuaries, fresh-water creeks, blue holes, and mudflat dotted with dense pine/scrub hummocks bordering the Great Bahamas Bank. Andros Island offers vast tracks of uninhabited and unspoiled wilderness. Consisting of upland forest and meadow, coastal estuaries and wetlands.
Mattamuskeet Management And Consulting (MMC)
MMC is a leader in new ecological conservation practices. It worked with the NRCS to install the first WRP in the country in 1992 and completed the first full design to construction WRP project in Louisiana in 2007. MMC has also worked with the USF&W, NRCS, and NCCF to develop the first tail water recovery system in NC. The carbon sequestration project along the Alligator River was the first in the USA. In addition to these specific projects, MMC has been active in developing wetlands, shorebird habit, and waterfowl impoundments for the private landowner.