The waters of the Outer Banks, especially Ocracoke and Pirates Cove, have long been known for their outstanding fishing. For decades, visitors have traveled from all over the world to experience the unmatched combination of offshore and inshore fishing that this area has to offer.
Please click the links below for specific information and rates:
Boasting one of the shortest runs to the Gulf Stream of anywhere along the east coast and the second largest marine estuary in the United States, this is one of your best options for planning your next fishing adventure.
Whether you're an experienced angler looking for a serious billfish charter out of Ocracoke, or this is your first time fishing, Dare To Hyde Adventures will build the trip that's right for you. All trips are provided under the expert guidance of only the most knowledgeable and experienced U.S. Coast Guard licensed captains available, and on some of the finest boats in the industry. No matter what adventure you choose, all bait, tackle, and other gear is included. All you need to do is show up!
Please refer to the inshore and offshore pages for further details about available species and trip options. While this area supports a year-round fishery, the individual species available vary depending on the time of year. Please call and speak with one of our knowledgeable captains in order to insure that your next fishing trip involves tight lines!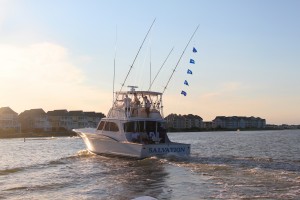 For offshore fishing trips, our primary vessel is the Salvation. It's a 50′ custom-built Omie Tillett sportfisher fully loaded with modern electronics, air conditioning, and top of the line Shimano fishing gear. From March-July and again in October-December the Salvation docks in Silver Lake, and charter fishes out of Ocracoke Inlet. During the months of August and September the Salvation moves just up the Outer Banks to Oregon Inlet to take advantage of the hot billfish bite that occurs during those months in that area.