From relaxing in a beach chair, to fishing from an ocean fishing pier, to cruising up and down miles of undeveloped beaches in 4×4 vehicles, the NC Outer Banks offers it all. Currently ranked number five on U.S News's Best Beaches in the USA list, and number two on their list of Best Family Beach Vacations in the USA, there are few beach locations that offer the plethora of opportunities that the Outer Banks do.
Dare to Hyde Adventures specializes in designing personalized beach vacations for groups of all sizes. From daily adventure and tour itineraries, to accommodations, to food recommendations, we can make sure your visit to the Outer Banks is a great one! Many of the adventures listed on other parts our website are located along the Outer Banks, and can be incorporated into your vacation itinerary.
Outer Banks Beach activities include, but are not limited to:
Fishing
Birding
Nature hikes
Swimming
Surfing
Sailing
Boating
Kayaking
Hunting
4×4 Beach Excursions
Photography
Historical Exploration
Parasailing
Shopping
Nags Head Beaches are loaded with beach shops and a wide variety of locally owned restaurants. You also have your choice of two fishing piers, The Nags Head Fishing Pier and the Outer Banks Fishing Pier, that allow access to all the copious species of fish. Along this same stretch are historical landmarks such as the Wright Brothers memorial, Bodie Island lighthouse, and lots of outdoor opportunities. This is the most densely populated portion of the Outer Banks, and includes activities such as theme parks, movie theaters, and golf courses that the remainder of the Banks doesn't offer.
Hatteras Island Beaches are made up of long stretches of undeveloped National Seashore that are separated by small townships and villages. If you have longed to leave the crowded beaches behind, and enjoy a nearly timeless beach, this is the perfect fit for you. This area seems to be a magnet for people who want to surf, kite board, windsurf, bird watch, camp etc. Not only do you have ocean access, but you also have access to the Pamilco Sound.  Like Nags Head, Hatteras Island has many beach shops and a variety of locally owned restaurants. Life here is a little slower & much more relaxed.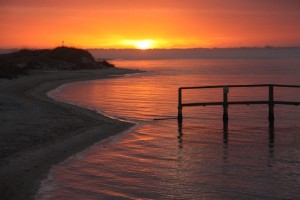 Ocracoke Island Beaches: Ocracoke beach was named the number 1 beach in America in 2007, and is the perfect place to relax and unwind.  Ocracoke is home to kayaking, kite boarding, surfing and parasailing.  You can also spend the day fishing for a multitude of offshore and inshore fish species. The area offers fine restaurants, campgrounds and shops that are sure to perk the interest of anyone.  What's different about this island is that it is set up as a village, and most residents and visitors get around the island on bicycles and scooters.  There are many talented musicians on Ocracoke Island and they host many events year round for the residents and visitors. One additional unique aspect of this island is that it is only accessible by personal watercraft or ferry; there is no bridge or similar connection to the mainland.